My Server Farm
The server hosting the web pages you are viewing (as well as my mail, DNS and DHCP services) is called Paqet, pronounced "packet", not paquet, not par-kay, just packet, okay?) has specs:
| | |
| --- | --- |
| CPU | GenuineIntel Pentium MMX @ 166.406MHz |
| Hard Disk | 2GB Quantum Fireball ST2100A |
| RAM | 32MB |
It is running FreeBSD 5.4 (take that, lunix lovers!@#), and lives in my wardrobe.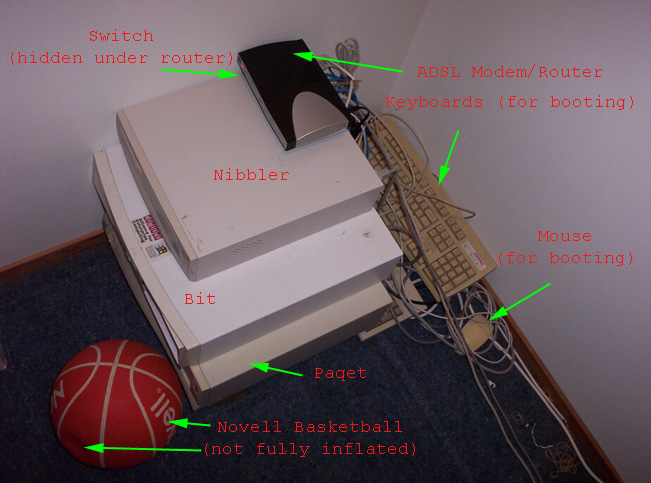 Nibbler is no longer a crappy Debian Sarge box, he is now another lean mean FreeBSD box.
| | |
| --- | --- |
| CPU | GenuineIntel Pentium @ 400 MHz |
| Hard Disk | 6GB Maxtor 90651U2 |
| RAM | 64MB |
Bit is my Music/Downloads Server... Serves up MP3s/M4As over SMB and NFS, as well as being a place for Nibbler to put large torrent downloads (as he only has a 6GB hard disk). Runs Debian Sarge.
| | |
| --- | --- |
| CPU | GenuineIntel Pentium @ 200 MHz |
| Hard Disk A | 2GB Quantum Fireball?? who really cares |
| Hard Disk B | 120GB Seagate Barracuda-thing (IV Maybe... do you really care?) |
| RAM | 64MB |
Because Bit has a big hot hard disk, it requires an extra fan for cooling; however DSE (the easiest place to go to find hardware, I have my reasons... go away Tricky Dicky haters) seems to think everyone likes pretty coloured light fans. Hence the coloured light fan in Bit: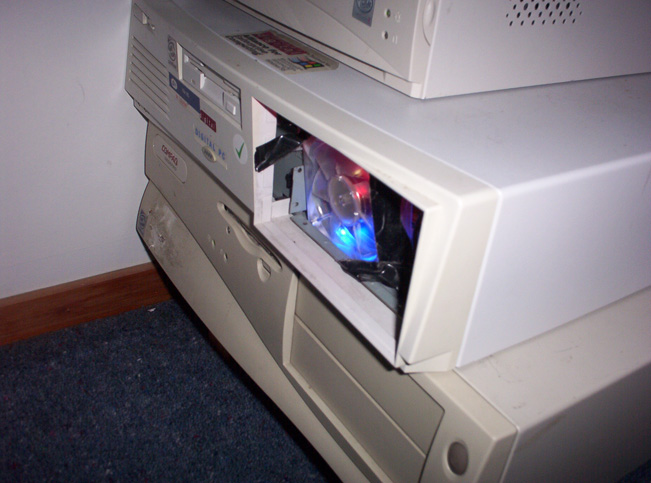 Rollover me to turn the lights off!
(Note that there is also a green LED in the fan, but it works intermittently, so it's only bi-colour. HAHA, bi!)
They are connected to the internet via a 256k down/128k up BitStream ADSL connection.
All the components of my network are joined together as per the diagram below. Anyone who wants to hack me CHECK OUT THE MULTIPLE BIG-FUCK-OFF-FIREWALLS in place. That are really there. I swear. Underneath the switch. Please don't hack me.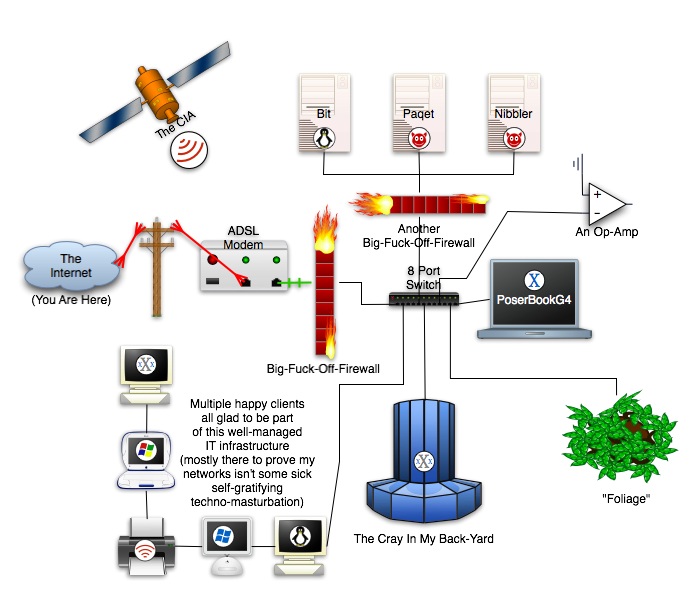 I've received literally ZERO emails asking me how I named my servers, so I'll attempt to answer that now. Paqet is a Compaq box, and packet is an internet term e.g. TCP/IP packet. HAHA I'm a geek.
Nibbler was not named by me, but was named after Nibbler from Futurama, by a friend with an unhealthy obsession with cartoon characters.
Bit is a Digital box, and binary digits are called bits... and bits are geeky too (there are 10 types of people in this world, those who understand binary and those who don't).